Great news Souls-style fans! Game developer From Software finally revealed some juicy information about upcoming Souls-style video game Sekiro Shadows Die Twice and it is all about their awesome Collector's Edition.
Sekiro Shadows Die Twice Collector's Edition looks great
The upcoming video game has this awesome Collector's Edition that contains several interesting contents. It will include: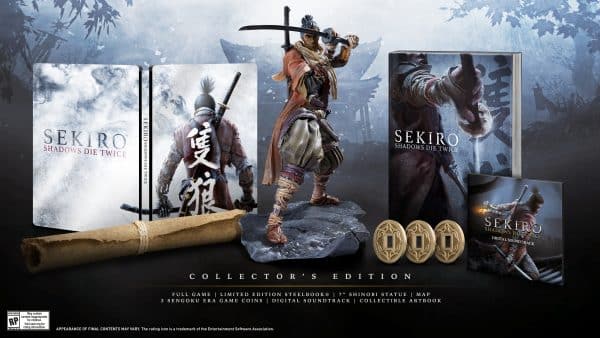 the full game play disc encased in a beautiful white-themed steelbook case
the awesome collectible artbook that looks thick with concept art
the large 7" Shinobi statue in a ready pose
some replica game coins that look like ancient Japanese ones
a map of the 3D game world which looks like the same likeness of old Japanese scrolls
digital copy of the soundtrack
Release date
Aside from the reveal of that awesome Collector's Edition, From Software finally gave us the expected release date. It will be launched next year, March 22, 2019. The developer also showcased the game at Gamescom. Game publisher Activision confirmed that attendees can try it out at their booth.
Digital version
You can pre-order the video game on the PlayStation Store right now for only $59.99. Anyone interested will get the pre-order dynamic theme, which is kind of lonely but it might change later on. It will launch on the PlayStation 4.